Grow

Your Business, Not Your Workload.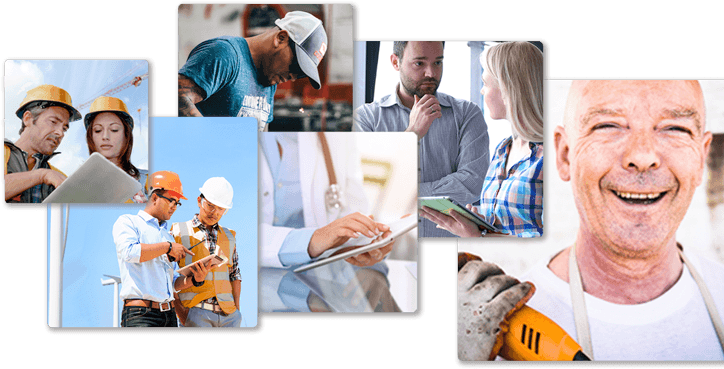 Transform the way you do
inspections, work orders, invoices, estimates,
and much more.
What is GoCanvas?
GoCanvas gives you the power to build your own custom mobile forms – without writing a line of code.
Work smarter and faster in the field with easy, efficient data collection right on your mobile device.
Send completed digital forms directly to co-workers, customers, or anyone else who needs to see them.
Store, download, and visualize all of your data so you can make informed decisions about your business.
Our business is helping your business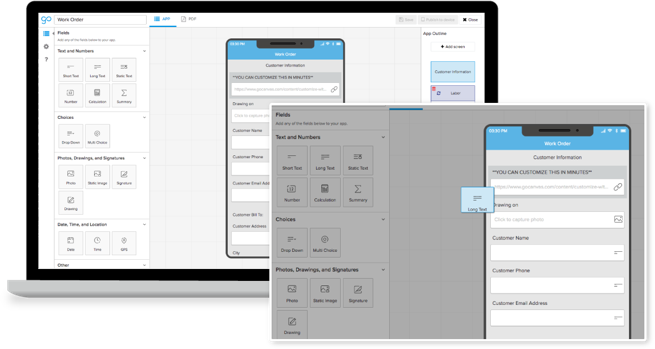 Our business is helping your business
Digitize your paperwork with customizable mobile forms that eliminate errors and streamline your day-to-day operations. Take back your time with automated processes that let your team focus on what they do best.
Paperwork impacts hurts your bottom line
Going digital with GoCanvas allows you to see, store, share, and analyze all of your data anytime, anywhere. No more guesswork. No more chaos.
Your Problems
Paper is slow
Driving back to the office to submit forms takes time away from the job at hand and delays progress and payment.
Paper isn't secure
It's easy to lose, damage, or destroy a piece of paper when you're working in the field.
Paper doesn't do anything
Even when you collect legible, complete paperwork, you can't do anything with it without manual re-entry.
Our Solutions
Work faster
Automate data collection so your team can get more done for more customers in the same amount of time.
Work smarter
Integrate with systems you're already using and keep a pulse on your business with reports and analytics.
Get more done
Eliminate inefficient tasks and processes so you can do what you do best, whatever that is.
Take it from our customers
Join more than 80,000 people across the globe who trust GoCanvas