Art Gallery Mobile Apps and Forms
Running a gallery is more than hanging artwork. From sales receipt to sign in sheets, let GoCanvas mobile apps deal with the details so you can focus on selling great art.

Our invoices checklists offer an easy way to keep track of the data that is most important to you. With our simple templates, you can easily build reports that then can be shared as PDFs. GoCanvas receipts mobile apps are compatible with any smartphone, mobile device or PC, allowing you to fill out checklists, calculate hours and organize schedules no matter where you are.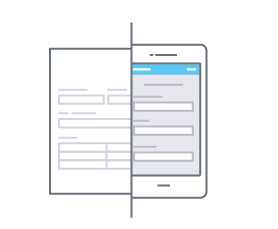 Convert your form to a mobile app FREE!
Request
Send us your form and we'll create your custom mobile app
This Art Gallery Sales Receipt Mobile App is designed to be used as a sales tax receipt for fine art gallery sales. <br><br> The user ca...
Recommended for You
Can't find the business app you need?
The GoCanvas team will convert your first form to a GoCanvas app for free when you sign up for a free trial.
Learn More
Build your own business app.
All of the GoCanvas mobile apps are fully customizable and you can build your own from scratch too.
Learn More