Roofing Contractors Estimate Sheet - Deluxe 237 Mobile App
Like all exterior house or commercial building maintenance, repairing a roof is critical to protecting property.
Features
Calculations
Submission Editing
Reference Data
Dispatch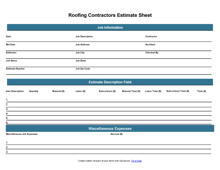 Download, print, or email a PDF every time you fill out your Roofing Estimate Template.
Designed for any contractor or business that provides roof repair, this app makes it easy to estimate the cost of the service, which may include materials and labor costs, warranty information, and square footage of the area to be repaired.
It's easy to customize the Roofing Contractors Estimate Sheet to include the type of roof being serviced, which could be a flat roof, asphalt roof, shingle roof, or one made of slate or wood shake. You can also create fields that will affect the price, such as roof slope and pitch, or the extent of leak damage.
Once all the information is entered, this app uses a calculator to provide a free estimate quote in a PDF format. This roof cost estimate may be emailed directly to the customer, who may use it in an insurance claim.
If you need a different mobile form, take a look at our home replacement cost estimator worksheet or roof inspection report.
iPhone, iPad

Android

Windows
Your account comes with access to thousands of mobile forms.
Your account comes with access to thousands of mobile forms.