Route Accounting Mobile Apps and Forms
Our expense reports checklists provide an easy way to keep track of the data that is most important to you. With our simple templates, you can simply build reports that then can be shared as PDFs. If you and your team regularly deliver applications forms or reports, then you'll be happy to know that our apps can be distributed as PDFs, via any mobile device or PC. With GoCanvas, all the data you want is always in the palm of your hand.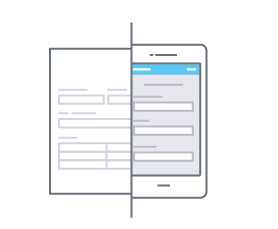 Convert your form to a mobile app FREE!
Request
Send us your form and we'll create your custom mobile app
A very simple expense report form that could easily be utilised in any industry. Make it simple for your employees to keep track of expens...
Use this simple mobile app to quickly list loss information and submit a claim number for your records. This mobile app applies to retail, ...
Recommended for You
Can't find the business app you need?
The GoCanvas team will convert your first form to a GoCanvas app for free when you sign up for a free trial.
Learn More
Build your own business app.
All of the GoCanvas mobile apps are fully customizable and you can build your own from scratch too.
Learn More