Potential Backcharge Notice - Construction Forms for Contractors Mobile App
This mobile app is used to notify independent contractors on a project about potential additional charges that may be levied when work is found to be deficient or incomplete according to the original contract terms.
Features
Signature Capture
Submission Editing
Reference Data
Dispatch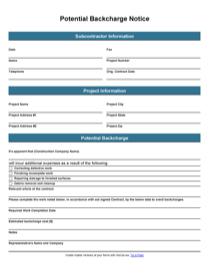 Download, print, or email a PDF every time you fill out your Back Charge Notice Form for Construction Contractors.


This electronic form, which replaces a written notice, is easily accessible from any smartphone or tablet, saves time, and can be customized as a template to include details about the original scope of work, contract terms, contract price, and other important details typically found in construction contract documents for the construction industry.

Whether you are a general contractor or a construction company owner, it's important to make sure that the terms of your construction contracts and scope of subcontractor work are met by the subcontractors that you hire. With the contractor backcharge notice app, contractors are notified about the problem and can review why it is considered a breach of contract if the additional work isn't completed or if there are delay damages. The construction manager or contracting officer then has the opportunity to correct the issue to what is considered substantial completion of work, and specifies the date by which the work must be corrected through corrective actions to avoid the backcharge with this template. Use this app's reporting feature to export this form in real time as a convenient report PDF.
iPhone, iPad

Android

Windows
Your account comes with access to thousands of mobile forms.
Your account comes with access to thousands of mobile forms.