Final Project Punch List for Construction Template
Manage construction projects more efficiently with a simple construction punch list template that works across various industries. Easily keep track of each project task or inspection item to ensure every project is completed to contract specifications during your final walkthrough.
Features
Signature Capture
Image Capture
Submission Editing
Reference Data
Dispatch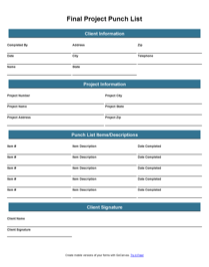 Preview a printable version of this Final Project Punch List for Construction Form. Then get ready to ditch your paperwork forever.
Download PDF
This convenient punch list log allows any general contractor or project manager to keep track of all of the work items on their to-do list for any construction project. The detailed punch list template offers a quick way to document work that is already completed, along with any outstanding inspection items that need to be done prior to billing for final payment. The punch list form is designed to work for the majority of contracts, but is fully customizable for a variety of different organizations in the construction industry. Add or remove items as they relate to your construction punch process. Example of common punch list items include: plumbing tasks, testing for electrical defects, drywall installation, flooring and more. Each template has been built with convenience and efficiency for project management in mind. Take your construction punch list with you wherever you go. The template works on any smart device or tablet with support for Android, iOS and Windows.
iPhone, iPad

Android

Windows
Your account comes with access to thousands of mobile forms.
Your account comes with access to thousands of mobile forms.